Welcome to Ootyultra 2023
Dear #ultramalaivasi,
Congratulations on signing up for the fifth edition of Ootyultra. I would like to extend a warm welcome to you for taking a step forward in becoming an #ultramalaivasi. I'm also happy to have you back if you are a returning runner.
The Ootyultra 2022 registration has ended, and we now have over 500 runners across four distance categories from 13 Indian states and two other countries. I'm thrilled to say this year, we will have the maiden 90k distance, and I am proud to have one woman and seven men ultrarunners signing up (90k start list).
This website has a lot of important information about race, and this page especially has all the essential information for you to feel well-informed before reaching Ooty. I request you to go through all the sections carefully. More importantly, read the medical advisory & complete the medical self-declaration form and submit it before you arrive at the Expo.
OOTYULTRA is a tough road run on the Nilgiris mountains with many uphill and downhill runs. You are strongly recommended to study and understand the terrain, weather, and running conditions and the links published below for a safe and memorable #ultramalaivasi experience.
Watch this entire video (link here) to master the #ultramalaivasi moves choreographed by Taher Merchant, a returning Ootyultra 60k runner.  Don't we all need some fun?
We request you check your emails regularly and not miss any important updates from us.
Please do not bring any single-use plastic covers or water bottles. Do always drive carefully on the hilly roads with your seat belts on and ride with your helmet to stay safe. I'm waiting with my crew to see you between 3.00 pm to 6.00 pm on Expo Day at Ooty.
Feel free to write to us if you have any questions at info@ootyultra.com
Cheers & happy running!
Coach Kay, Founder & Race Director, Ootyultra
Your name in the start list, Medical advisory & self-declaration form
Please visit the recently published medical advisory page – you must complete a self-declaration as soon as possible. You can view your registration status along with the status of the medical self-declaration form on the start list pages
Plastic-free OOTY / Nilgiris District
The Nilgiris Mountains have been declared an ecologically sensitive region with a government-imposed plastic ban. I would draw your attention to be aware of this. Go through the list of things that are banned in the image below and join us and help the Ootyultra crew and volunteers in delivering a green and beautiful event this summer. I think what we all need is a self-imposed ban. We don't want our governments to tell us to protect nature. It's our individual/collective responsibility to follow this wherever we go, not just in the Nilgiris mountains. Let's together save the beautiful Nilgiris! Let's be responsible runners!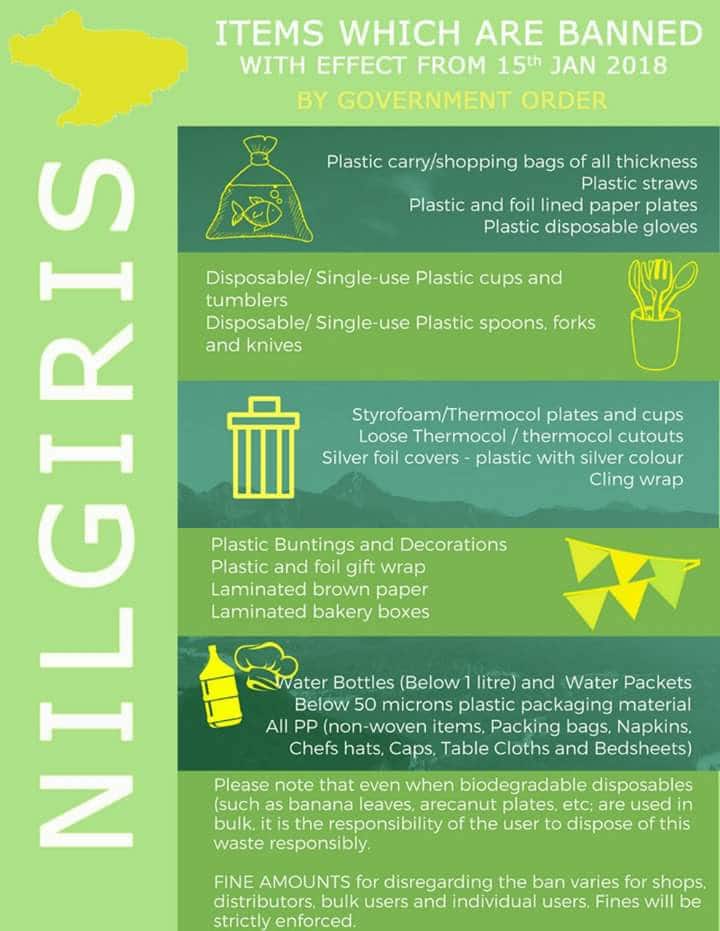 A few important dates
Date
Event
1-Apr-2023, Saturday, 3.00 pm onwards
#ultramalaivasi Expo day, at YWCA OOTY
4.00 pm (tentative) #ultramalaivasi Tribal Dance program
4.30 pm Race Directors briefing session
2-Apr-2023, Sunday, 5.00 am onwards
OOTYULTRA race day!
6.00 am : 90k flag-off
6.30 am : 60k, 30k, 15k flag-off
#ultramalaivasi Expo & Bib-Collection
Expo Venue: YWCA Anandagiri – google location
Date: Pre-Race Day, Saturday, Time: 3.00 pm to 6:45 pm
How to reach the Expo venue?
YWCA Anandagiri; is located very close to the OOTY Market, and it is very easily accessible. Follow the Google Maps links shared above.
What you must bring to the expo
At the BIB distribution counter, announce your BIB Number or bring a copy (email or print out) of your TOWNSCRIPT Ootyultra booking ticket confirmation page
A printout or photocopy of an original photo ID
If you are NOT running the Ootyultra or arriving late to Ooty on Expo Day, you can send an authorization written letter to collect the race kit along with your photo ID proof (signature must match). Alternatively, you can email info@ootyultra.com with a CC to the person collecting your race kit, and your representative can show us the email. Only the goodie bag with your T-Shirt will be given to your friend, and the Race BIB will not be given. You can collect your running bib on the race day if you plan to run; see the instructions below.
Vaccination records – if not submitted already or RTPCR Negative, done after 1-Apr-2022 if you did not complete two doses of vaccination
Used running shoes to donate to GREENSOLE (see more information below)
Bring your water bottle & wear a cap and sunglasses to manage the sharp heat. It has been raining in Ooty during the evening hours for the past few days, and the weather forecast says "light rain."
Collect your BIB and goody bag, and interact with our sponsors & partners. Enjoy the evening with your friends, family, and other runners, and brace yourself for the race day
IMPORTANT
On 2-Apr-2022, Saturday at 4:30 pm, RACE BRIEFING and SAFETY announcements – by Coach Kay, the founder & Race Director of OOTYULTRA.
Pre-marathon dinner (only if you have bought)
6.45 pm onwards: Vegetarian pre-marathon runners-friendly dinner served at YWCA. Dinner will only be served if you have purchased the coupons and registered. Runners who pre-booked can directly go to the YWCA restaurant and show their BIB to get their dinner. The food will not be served if you do not show your BIB.
What if you can't reach the expo venue before 6.00 pm on Saturday?
You can collect the BIB on the race day morning between 5.15 am to 5.45 am.  We will not issue any BIBs after 5.45 am.  Please note we will not be able to distribute your goodie bag/T-Shirt on race day.  You must bring a valid photo ID copy and must sign the waiver.
Support Greensole bring your old running shoes
Start gathering your old running shoes, which are at their end of life. Clean them. Refer to the image below.
Bring them with you to Ooty and deposit them at the Greensole counter on the Ootyultra #ultramalaivasi Expo day.
We will ship all the footwear donated by you to Greensole. Greensole will refurbish them and convert them into footwear.
Through our sponsors (we are in the process of identifying), Ootyultra will make efforts to buy the same quantity of footwear donated and donate them to needy individuals in Ooty.
Please write to info@ootyultra.com if you wish to be a sponsor, each refurbished footwear pair costs around Rs. 300
What to donate (& whatnot)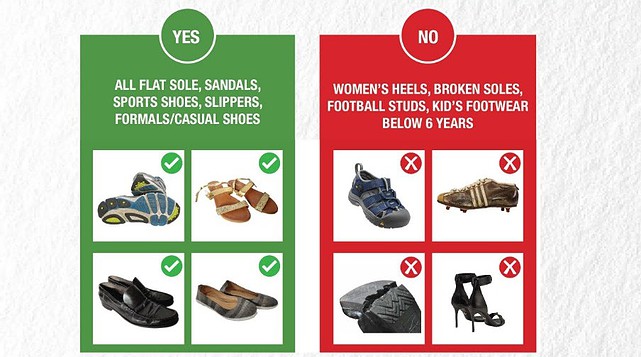 Parking your vehicle (expo & on the race day)
OOT is a small town, and finding a convenient parking space for your vehicle could be reasonably challenging.
Expo day: there may be limited parking available inside the YWCA Anandagiri,
Race day: You cannot park your car at YWCA on race day.
We recommend you walk or jog down to the starting point on race day from your place of stay since YWCA doesn't allow cars to be parked inside the campus the cars may be towed away.
Race day
Start point: YWCA Anandagiri – google location
Reporting time on the race day: 3-Apr-2022, Sunday Time: 5.15 am onwards, be there 30 mins before your race start.
90k race start: 6.00 am | 60k, 30k, 15k race start: 6.30 am
Baggage counter: submit your baggage at the start point against your BIB number – do not leave any valuables; the volunteers are not responsible for protecting them. We will allow only a small handbag to be checked in. Your bags will be brought to the finish line. You can access them at 15k, 30k, 60k, and 90k points.
Aid stations are spaced approx. 3-4 km. View the route map and aid-station locations here. Water/electrolyte will be served in steel glasses – no paper cups or plastic water bottles are allowed anywhere in The Nilgiris. You can optionally carry your hydration bag or flask and refill at the hydration stations.
Electrolytes: All aid stations will have a Isotonic mixture of between 4-8% carbohydrates
Photography: Get ready to smile while running to help our Flashbulbzz photographers capture your Ootyultra #ultramalaivasi moments. Your event photos may take up to one week to publish.
Toilets: You can access toilets (can also be change rooms) at the Start, Finish, One in the 15-30k loop, 3 in the 30-60k loop, and 3 in the 60k-90k loop.
Finish point: Government Tea Park, Battarkambai ~8.3 km away from the start
Post-run food arrangements
15k & 30k runners: Post-run English Breakfast. Served only to RUNNERS, we strongly recommend you to carry some food if your family members are with you to support you at the finish.
60k & 90k runners: Lunch (rice+curry etc.,)
Post-run refreshments for 90k runners who finish after 5.30 pm.
Race finish time & results
Your provisional results SMS will be sent within one day. You may not receive the SMS if you have enabled DND or related services, which may block the receipt of your messages. Your official results will be published on our results page within two working days after validating your results.
Shuttle buses – to take you back to Ooty town
Tea Park is located approximately 8km away from Ooty town. Public transport is not frequent, and we have arranged 3-4 shuttle buses to take you back to Ooty – the Charring cross is the only drop point, and the bus will return.
Each bus will leave every 1 hr 30 mins interval starting from 9.15 am from the Tea Park entrance (the finish line is about 100 m) – see schedule below.
Bus departure times: 4 buses carry 75 runners max*
9.15 am
10:45 am
12:15 pm
1:45 pm
3:15 pm
6:15 pm
*The shuttle buses will be operated on a limited/optimal number of times departures depending on the number of runners to carry, and the service will operate only when there are a minimum of 15 runners on each bus during non-peak times. If you are in a hurry to travel back to Ooty, you can optionally hitch a ride, use public transport, or make other personal arrangements. We request your full cooperation with the Ootyultra crew members.
Your BIB usage guideline
Your BIB will be given only when you are physically present at the expo after submitting your waiver/photo ID
You must always wear your BIB during your race from start to finish.
Your BIB must be worn only by you.  DO NOT GIVE YOUR BIB TO ANY OTHER RUNNER without formally transferring your registration.  This is against the race rules and if we find any other runner running with your BIB, he will be removed from the course also both of your names will be published on our website/social media pages and blacklisted.
Secure the BIB in front of your running T-shirt.
Do not write, alter or change your BIB
Your BIB contains the RFID tag for tracking your run progress, do not tamper with it
You must return the BIB to the race crew or the sweeping vehicles if you are declared unfit to run by the medical team or the race director or if you decide to quit running for any reason.
Also, any runner running on the course without a valid race BIB and using the aid stations will be pulled out by our race officials.
You are not allowed to use anyone to accompany you or assist you in any vehicle. This is allowed only for 15k runners who are <18 years.
Any violation will lead to disqualification
CUT OFF Rule & your race time
You are expected to understand the OOTYULTRA cut-off rules
In summary,
The 15k doesn't have any cut-off time
30k is 5:30 hrs
60k is 10:30 hrs
The route is not accurately measured, and your cut-off time is good enough to accommodate the distance variations.
All the runners are expected to respect the cut-off rules.
Our timing systems will measure your running time as the gun time (the official flag-off time) to finish time. Allow 1-3 minutes at the start line and include that in your pace calculators to carefully plan your finish within the published cut-off times.
Timing mats will be placed at the start and the finish (at 15k, 30k, and at 60k) is mandatory for the runners to ensure they cross within the mat boundary in order for their run timing to be recognized else it may count towards a DNF
The local district police, forest department, aid-stations volunteers, our communication & medical & first-aid crew, and route marshals will support you on the course.  A lot of coordination is required between the teams, and you are requested to anticipate a few minutes of delay to get the final word of confirmation from the Traffic police for the flag-off.
Your #ultramalaivasi medal is a hand-crafted piece of art with your name laser-cut.  All runners finishing the 15k (irrespective of your finish time) will receive the medal at the finish line.  The 90k, 60k & 30k runners will get your personalized medal only when they finish the race within the cut-off time.
All runners finishing the OOTYULTRA beyond the cut-off time will be marked DNF and you will not receive your personalized medal, even if you are 1 sec out of the cut-off time.
We will only measure the time shown by our timing system and will not consider the time shown by your personal watches.
90k & 60k runners still on the course will be picked up by our sweeper vehicles; you must submit your bibs to the sweeper vehicle marshal (or a picture will be taken).  You will be marked DNF.
The Race Director's decision is final on all matters.
Spirit of #ultramalaivasi
All OOTYULTRA runners are true #ultramalaivasi's who will never resort to any cheating methods to receive the most special personalized medal or a successful finish status on the timing records/completion certificate. They are true athletes who are patient, honest, diligent, hardworking, maintain the highest integrity, and are ready to sacrifice (Joe, 2022); they also act as role models for the next generation. Yes, it may (mostly it will) emotionally hurt if you cannot finish the race within the cut-off time, and you are expected to accept this outcome in the spirit of this ultramarathon race.  There is always the next time or another event for you to train effectively and accomplish. Please be aware that the first edition of OOTYULTRA found one runner who had taken a ride on a vehicle to reach the finish line and claimed to have successfully finished the race on his social media page. The fifth edition of OOTYULTRA witnessed another runner who walked on a trail to get the advantage of 500 m and argued the course was longer by 300 meters compared to his GPS watch. We have a big heart and have confronted these runners and highlighted their unacceptable behaviour. Read more about this first incident. The future editions of OOTYULTRA might not be the same, and we will publish the names of any runners found cheating.
Medical and safety arrangements
Ootyultra runners & volunteers will be supported by the following safety & medical team under the advice, guidance, and support of the Medical Director, the Race Director, a run manager (Brijesh Gajera) & several route marshals, and support volunteers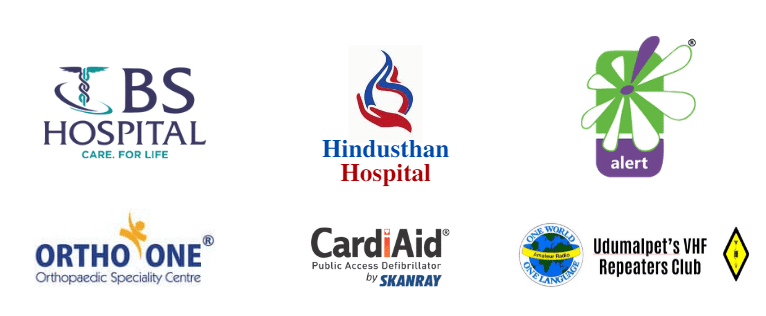 Medical tent at the expo & finish supported by BA Hospitals
Physio tent at the finish supported by Otho-one
Ambulances from BA Hospital
Cardiac Ambulance from Hindusthan Hospital
Orthopaedic ambulance form Orthoone
First-Responders from ALERT
AED kit from CARDIAID
HAM radio stations at key points
Bike/car route marshals and support crew (trained in basic first-aid)
Your safety is important
OOTYULTRA is a road run, and there will be light vehicular traffic throughout the course. OOTY is in the forest area, and wild animals, like Wild Guar (Wild Bison), may be present, and you may encounter stray dogs near villages. Run with the company of your friends following road safety guidelines. You are aware of the dangers and take full responsibility for being safe. Do not listen to music through headphones; do not attempt to take selfies at unsafe mountain and road edges and in front of any animals. There are many blind turns on the course and or walk/run at the extreme sides of the roads where you can see the vehicles approaching you.  Exercise caution while crossing road intersections and follow the sign banners and route markers painted on the road.
How can you stay connected with the event?
Join the OOTYULTRA runners-only group on Facebook
Share your excitement about running the OOTYULTRA through Facebook or Instagram stories, and remember to use the tags #ootyultra #ootyultra2022 #ultramalaivasi
Like and follow us on Instagram
Write to info@ootyultra.com if you have any questions.
Our sponsor/partners' discounts & offers
Your preparations for OOTYULTRA are vital
OOTYULTRA is a road run on the Nilgiris mountains with a lot of uphill and downhill running.  You are strongly recommended to study and understand the terrain, weather, and running conditions and all the links published below for a safe and memorable experience.